Focus on Capulette production
S T A P E n ° 1 - Creation -

Following her inspirations and travels, Capucine hunts and selects colors, materials, grosgrain and shoe shapes for her next collections.

S T A P E n ° 2 - Quality -

Before being sent to our workshops in Italy, each fabric is carefully inspected in Paris.

S T A P E n ° 3 - Manufacturing -

Once the final details have been worked out, production begins. Each collection takes around 3 months to complete.
- The sole -

Each sole is cut by hand using a tool known as a "cutting die". Each shoe size has its own die. The cut bicycle tire soles are then sewn / topstitched during assembly.

- Pre-assembly -

Several steps precede the final assembly of a friulane. Fabrics must be lined, then cut according to a template; grosgrain sewn by hand onto each piece and each insole, not forgetting the labels which must also be sewn onto the soles. Sew it all together, and off you go!

- Assembly -

Assembly is the penultimate step in the long manufacturing process. Soles (inner & outer), upper and lining are assembled by hand. Gestures are precise, as craftsmen glue, sand and sew the different parts of the shoe together. Everything takes shape over the course of the workshops. Finished shoes are stored on wooden carts for quality control!

- Final details -

Last but not least: quality control. Each shoe is inspected before being carefully packaged. Buttons, soles, stitching: everything goes through. That's Italian craftsmanship ;)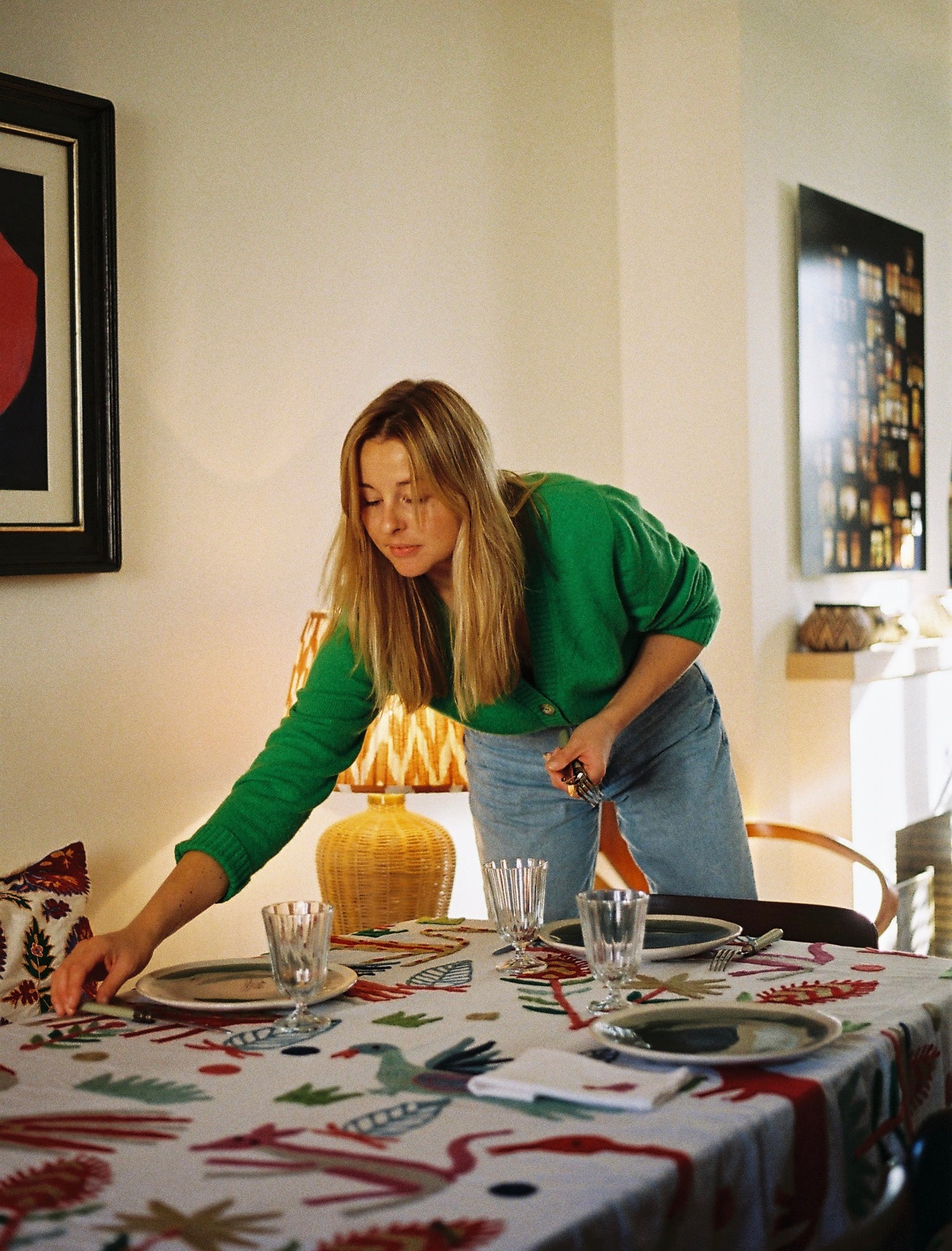 Behind Capulette is Capucine Lebrun. As a child, she was known as Capulette.
Growing up between France and Italy, and wearing Friulane from an early age, the Venetian slipper became her Proust's madeleine. 
But La Friulane has no equal in France, so she decided to create her own brand in 2016 in Paris.
As the years go by, velvet colors become more and more numerous, and friulane becomes a boundless creative terrain. Bambina, slippers and baby booties made their debut at Capulette. Collaborations multiply: Le Bon Marché, Merci, Tara Jarmon, Venice at the Grand Palais, CSAO, Call It By Your Name... 
Her desire to showcase the talents of artisans she admires opened the door to new horizons. Colombia invites itself to the tables she imagines with her "art de la table" collection. The Suzani embroideries she admired in her books on Uzbekistan can now be found in her Paris boutique. Indian know-how has caught her eye: jackets, tablecloths, slippers, the colors are flying, the collections are growing... 
A limit? She doesn't set any, that's passion.    
Read more